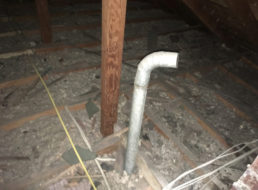 Posted on June 20, 2019 by mikew in Fix It & Use It

This was a peculiar sight in a recent attic. This picture is of a plumbing vent pipe improperly terminating in the attic. In short, there are pipes sticking out of most roofs to allow water to drain quietly and smoothly when we flush toilet and pull stoppers on drains (see the next picture). This one […]

No Comments. Continue Reading...